Regular price
Sale price
€75.00 EUR
Unit price
per
Sale
Sold out
Tax Free Shopping & VAT Information
2 in stock
kAll profits of these kits will be donated to the Sheltersuit Foundation. 

Dancing on Waves:
This kit's main feature is not the yarn but the beautiful 'Dancing on Waves' pattern by Josh Moll. She designed this shawl when she was almost blind, in the summer of 2019. 
As written by Josh in the introduction to the pattern: 
Neuro-Sarcoidosis had flared and inflamed my eye nerves. I had 30% vision in my left eye and 15% in my right eye. Because I had high doses of prednisone, I always felt manic and restless. Knitting helped me to stay calm and sane under this stress I wanted an easy knit, where I could use my fingers to feel the stitches and hold my interest. For the exciting part,I needed a lot of contrast in the colors. So I used garter stitch in a single color for the easy part and two-color brioche in highly contrasting colors for the added interest.
The shawl pattern has a rhythm too. There are increases at the same points, so it grows into a big triangle. The garter sections have the same width throughout the shawl, and the brioche sections shrink. Like waves, they even out and get smaller as they reach the end of the sea.
I made this shawl design specifically to accommodate my low vision and my particular needs. And after I finished it, I saw it's beauty and realized that it had worth for other knitters. There are clear written instructions per section in my pattern to make it easier to structure your knitting. I hope you will enjoy knitting the design as much as I've done.
Why a kit? 
For both Carolien (Colourful Creativity by Kralalien) and Aiden (Undercover Otter), Josh is one of their first and most cherished customers. 
The Dancing on Waves pattern is too pretty not to be seen by the world. Josh, Carolien, and Aiden decided to collaborate on this kit to provide the design, and Josh, the platform they deserve. The yarn is simply the tool to make this beautiful shawl dance.
Why Sheltersuit:
Josh, Carolien, and Aiden have chosen Sheltersuit for the proceeds of this kit. Sheltersuit is a non-profit organization providing immediate shelter to the homeless while using upcycled materials and providing jobs. They believe everyone deserves warmth, protection, and dignity. That is why they design and manufacture multifunctional products that offer shelter to people experiencing homelessness. This is not a replacement for finding a home but a supplement when you have no other choice. 


Included in this kit:
The Dancing on Waves Pattern (printed version and digital download code);
3 skeins of Colourful Smooth Sock: a 75% superwash merino and 25% nylon yarn base with a running length of 425 meters per 100 grams (464 yards per 3,5oz). There will be 2 kits available:
Kit A (as the sample displayed in the pictures):
MC: 2 skeins of Quirky Rainbow (Colourful Creativity by Kralalien) 

CC: 1 skein of Society (Undercover Otter)
MC: 2 skeins of Society (Undercover Otter) 

CC: 1 skein of Quirky Rainbow (Colourful Creativity by Kralalien).
The pattern will also be available for purchase starting the first week of February in the Colourful Creativity webshop. Pattern sales will be donated to Sheltersuit.




Pattern Information:
YARN:
Version 1 (small) – 165 cm wingspan, 65 cm depth in the middle:
1 x MC: Fingering weight yarn – 425 meters (approximately 102 grams, in brioche seen on the right side)
1 x CC: Fingering weight yarn – 141 meters (approximately 33 grams, in brioche seen on the wrong side)  
Version 2 (large) – 230 cm wingspan, 80 cm depth in the middle:
2 x MC: Fingering weight yarn – 765 meters (approximately 180 grams, in brioche seen on the right side)
1 x CC: Fingering weight yarn – 340 meters (approximately 80 grams, in brioche seen on the wrong side)  
NEEDLES: 
3,5 mm/US 4 long circular needle
GAUGE: 
16 stitches and 42 rows in 10cm/4" square, after blocking, in garter stitch.
TECHNIQUES USED:
Discount codes can not be applied to this kit.

All proceeds of the sales are donated to Sheltersuit. 
Dye Technique(s) Used:
About This Yarn Base:
Share
View full details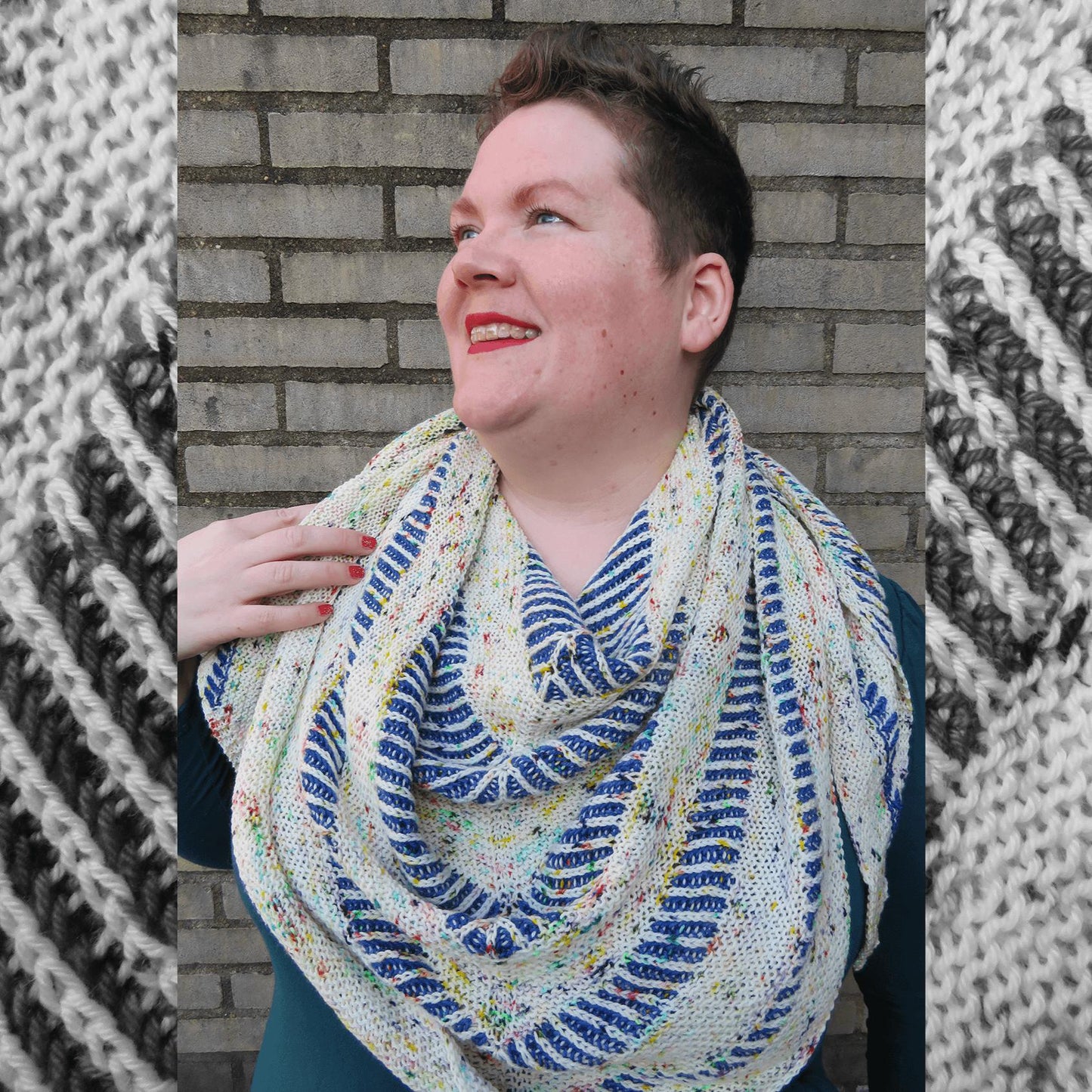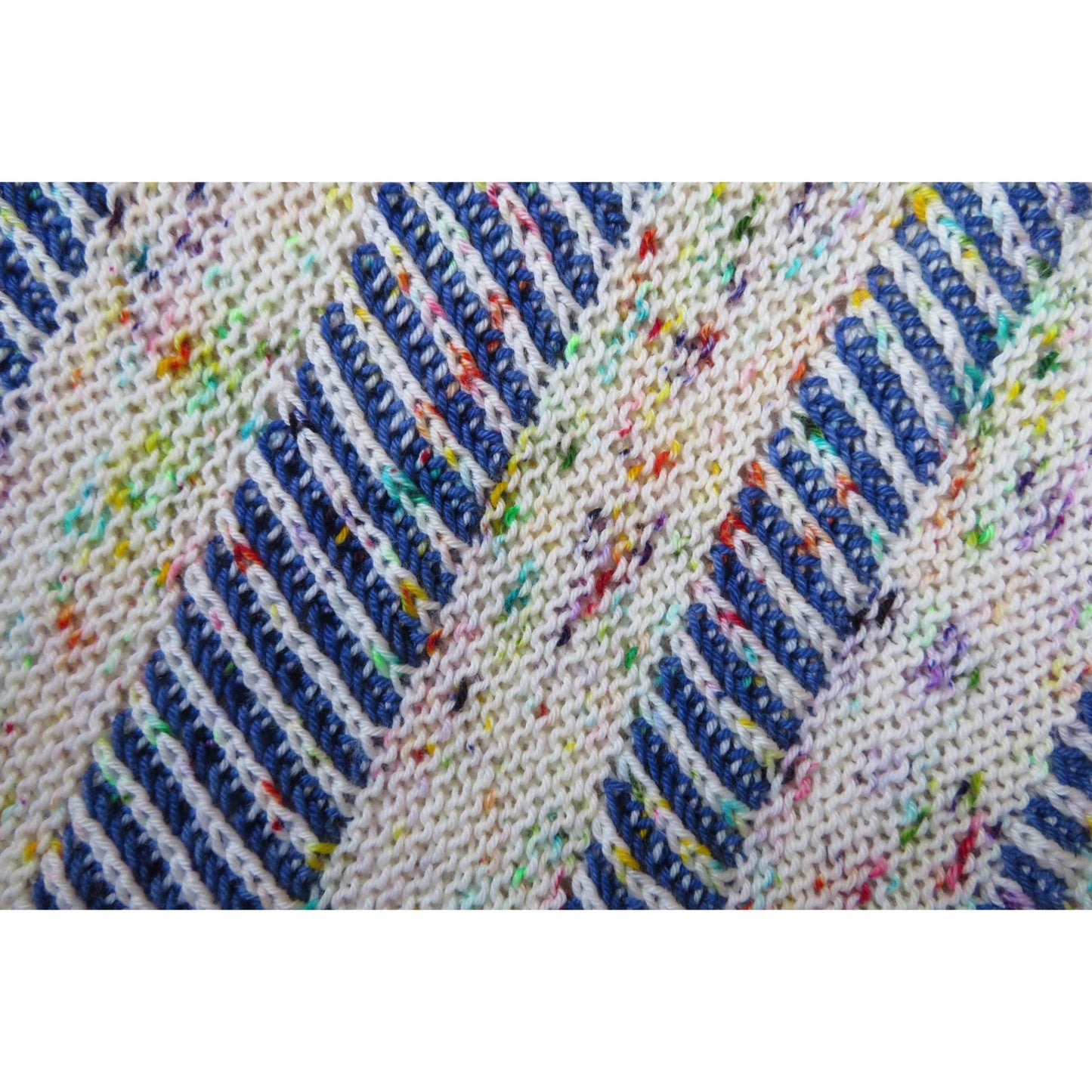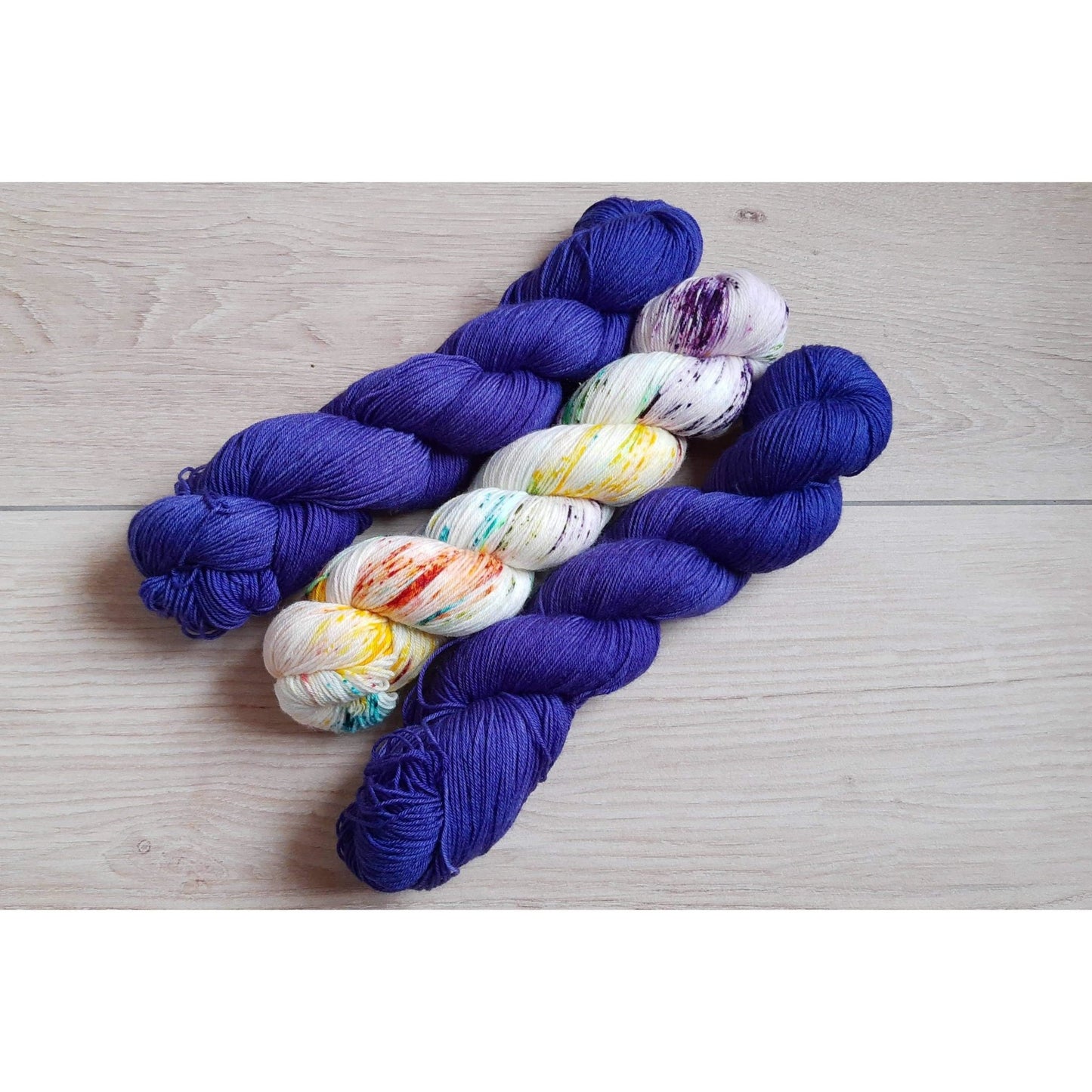 Tax Free Shopping & VAT Information
Regardless of where you place your order from, we calculate VAT according to your shipping address upon checkout.
IMPORTANT: If you are using a VPN, or your shipping country differs from the one you are in during the purchase, the website may not be showing the correct VAT amount*.
🌍Customers from outside the EEA (those in the 🇺🇸 United States, 🇨🇦 Canada, 🇯🇵 Japan, 🇦🇺 Australia, etc):
If you are shopping from outside of the European Economic Area (EEA) and we are shipping to you outside of the EEA, you will not pay any VAT (Value Added Tax) at checkout.
🇪🇺 EU customers:
We will charge you the VAT rate of your shipping address.
Example:
Customers from Germany will pay 19% VAT.
Customers from France will pay 20% VAT.
If you want to know your country's tax rate, please CLICK THIS LINK.
🇳🇱 Dutch customers:
We will charge you 21% VAT.
🇬🇧 UK customers:
Due to UK taxation laws post Brexit, we are unable to ship orders with a value of GBP 135 or less to the UK.
Customers with order values over GBP 135 (excl. VAT) do not pay VAT at Undercover Otter. Instead, you will pay VAT once the package arrives in the UK.
Price display on the website:
Customers outside the EEA see all prices on the website excluding taxes.
Customers in the Netherlands and the EEA see all prices on the website including their local taxes.

Customs and Import charges:
For some items, your customs bureau may require you to pay for importing your order. This is a fee that the government charges you for the right to import certain goods.
Undercover Otter has no control over the amount they will charge you when your order arrives in your country, and we cannot be held liable for these costs. If you refuse a shipment, and it gets returned to Undercover Otter, we can refund your order. But we will not refund the shipping costs.
*: As mentioned in our Privacy Policy, we use cookies to communicate with your browser and detect in which country you are located.
Collapsible content
IMPORTANT INFORMATION WHEN PURCHASING HAND DYED YARN!

When purchasing hand dyed yarns, we recommend you purchase a sufficient amount of yarn for your project.

We sell handmade products that get produced in small batches. We always use the same recipes for repeatable colorways and work very precise measuring our materials. However, it's impossible to guarantee two skeins will ever look the same. With hand made products there is always some variation on the end product.

If you want a uniform result with the end product you are making, with knitting, crochet and weaving, alternate skeins once rows. If using fiber, you can mix and match some of the fibers as you go when spinning or felting.

When dyeing yarn we fully exhaust all pigments before going to the rinsing step. Despite the care we put into the rinsing process, mild bleeding is common in hand dyed yarn and if you have a skein with a bright or dark color, or it contains speckles, play it safe by rinsing the skein in cold water and some wool wash and let it dry before casting on.

If you want more information on how to care for hand dyed yarn, please follow this link.

This listing is for one (1) skein of yarn unless specifically mentioned otherwise. Photos of multiple skeins shows a comparison between yarn bases and/or skeins. Colorways may slightly vary depending on the screen due to your display settings.