Regular price
€27.00 EUR
Sale price
€23.00 EUR
Unit price
per
Sale
Sold out
Tax Free Shopping & VAT Information
1 in stock
About Sets & Stock Levels

Our website prevents the overselling of items.

If you have a set in your cart that has an item in it of which we only have 1 left, and you add both the single item and the set to your cart, the shop system will not allow you to check out.

You will see an error message during the final checkout stating 'there is an issue with your order, please contact us' or something along those lines. 

Example:

Imagine there is 1 skein of Toxie in stock.

The Aiden's Arcane Neons set uses 1 skein of Toxie,1 skein of Arcane Horror and 1 skein of Nekromantik to make the set.

If you add both the set (Aiden's Arcane Neons) and the single skein of Toxie to your cart, the system will not let your order go through, since there is only 1 skein of Toxie available, and it's already in the set.

The solution is to go back to your cart page, and remove the single item from your cart (in this case that 1 skein of Toxie). After doing that, you should be able to check out as usual. 

If you want to order extras of a colorway that we have more than 1 in stock for (in this case for example the skeins of Nekromantik, of which 4 are in stock) you can just add those without a problem. 

The limit on overselling only applies to items of which we only have 1 on stock.

If you really really really want more of an item that is part of a set, but we only have 1 in stock, feel free to contact us and we can set up a custom order (if it's a repeatable colorway). 

There is one exception to the overselling rule, and that is if two people check out at exactly the same time with exactly the same set of which there is only 1 available. The chances of that happening are slim to none and in that case we will contact you as soon as possible to find a solution. 
 6 itty-bitty skeins of embroidery thread (the perfect set for a tiny stitching enthusiast!)
This thread is perfect for (traditional) embroidery, cross stitching, sashiko, visible mending, small macramé projects, tatting and bracelet weaving.
Every skein in one colorway is from one and the same dyebath. These skeins of embroidery thread are hand dyed. Unlike solid, commercially dyed embroidery threads, you will find variations in every skein.
Fiber Contents: 55% Superwash Bluefaced Leicester | 45% Silk
Running length per skein: ~24 meters | ~26 yards
Weight & Plies: Lace Weight, 2-ply
The silk makes for a sturdy thread, adding an amazing shine to the floss. Bluefaced Leicester is durable and can withstand use.
Included in this set:
Toxie

Lubdan
Teal
Petrol
Society
Below
Dye Technique(s) Used:
About This Yarn Base:
Share
View full details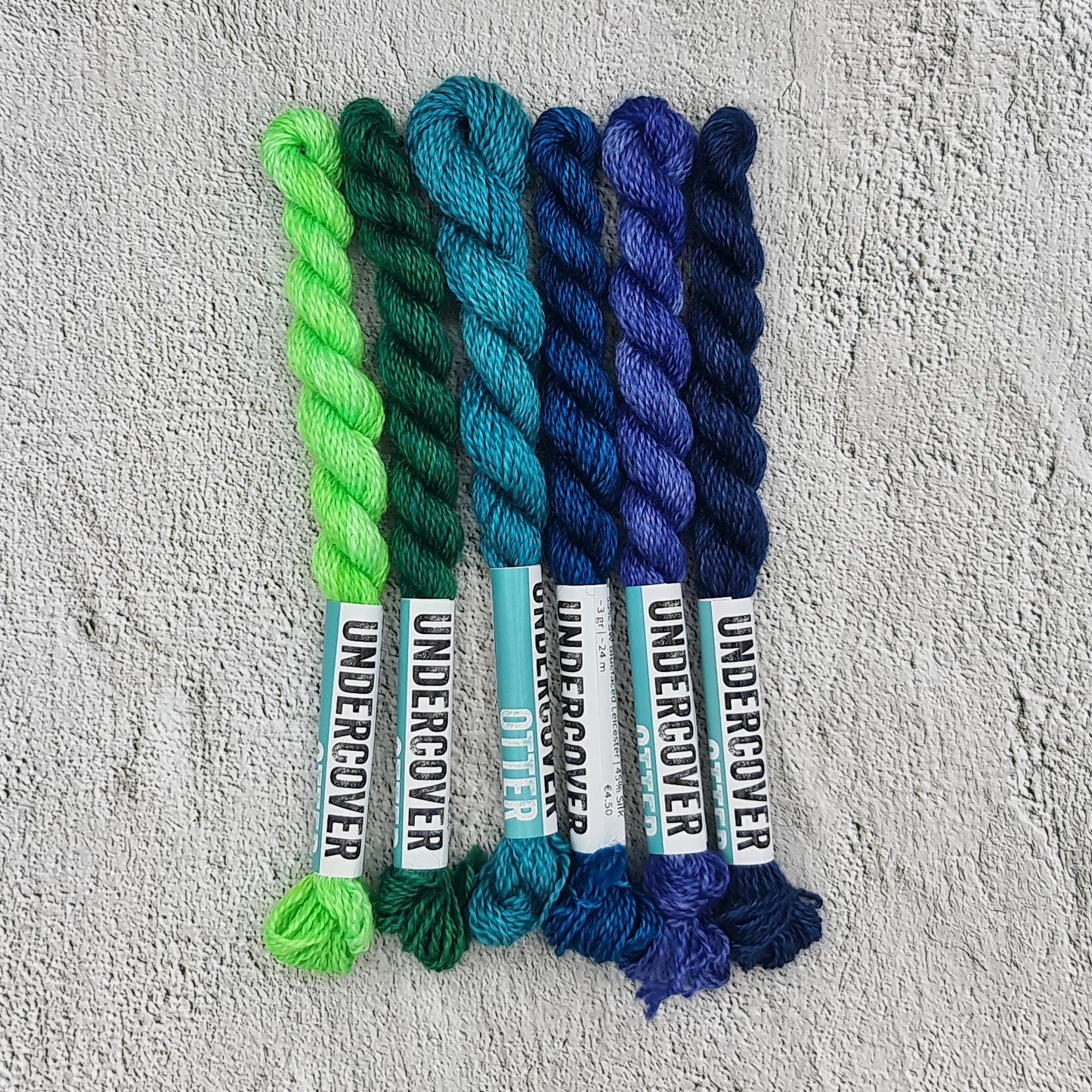 Tax Free Shopping & VAT Information
Regardless of where you place your order from, we calculate VAT according to your shipping address upon checkout.
IMPORTANT: If you are using a VPN, or your shipping country differs from the one you are in during the purchase, the website may not be showing the correct VAT amount*.
🌍Customers from outside the EEA (those in the 🇺🇸 United States, 🇨🇦 Canada, 🇯🇵 Japan, 🇦🇺 Australia, etc):
If you are shopping from outside of the European Economic Area (EEA) and we are shipping to you outside of the EEA, you will not pay any VAT (Value Added Tax) at checkout.
🇪🇺 EU customers:
We will charge you the VAT rate of your shipping address.
Example:
Customers from Germany will pay 19% VAT.
Customers from France will pay 20% VAT.
If you want to know your country's tax rate, please CLICK THIS LINK.
🇳🇱 Dutch customers:
We will charge you 21% VAT.
🇬🇧 UK customers:
Due to UK taxation laws post Brexit, we are unable to ship orders with a value of GBP 135 or less to the UK.
Customers with order values over GBP 135 (excl. VAT) do not pay VAT at Undercover Otter. Instead, you will pay VAT once the package arrives in the UK.
Price display on the website:
Customers outside the EEA see all prices on the website excluding taxes.
Customers in the Netherlands and the EEA see all prices on the website including their local taxes.

Customs and Import charges:
For some items, your customs bureau may require you to pay for importing your order. This is a fee that the government charges you for the right to import certain goods.
Undercover Otter has no control over the amount they will charge you when your order arrives in your country, and we cannot be held liable for these costs. If you refuse a shipment, and it gets returned to Undercover Otter, we can refund your order. But we will not refund the shipping costs.
*: As mentioned in our Privacy Policy, we use cookies to communicate with your browser and detect in which country you are located.
Collapsible content
Important Information

When purchasing hand dyed yarns, we recommend you purchase a sufficient amount of yarn for your project.

We sell handmade products that get produced in small batches. We always use the same recipes for repeatable colorways and work very precise measuring our materials. However, it's impossible to guarantee two skeins will ever look the same. With hand made products there is always some variation on the end product.

If you want a uniform result with the end product you are making, with knitting, crochet and weaving, alternate skeins once rows. If using fiber, you can mix and match some of the fibers as you go when spinning or felting.

When dyeing yarn we fully exhaust all pigments before going to the rinsing step. Despite the care we put into the rinsing process, mild bleeding is common in hand dyed yarn and if you have a skein with a bright or dark color, or it contains speckles, play it safe by rinsing the skein in cold water and some wool wash and let it dry before casting on.

If you want more information on how to care for hand dyed yarn, please follow this link.

This listing is for one set. Please check the listing to see how many skeins are in this set. Photos of multiple skeins shows a comparison between yarn bases and/or skeins. Colorways may slightly vary depending on the screen due to your display settings.