Regular price
€0.00 EUR
Sale price
€27.00 EUR
Unit price
per
Sale
Sold out
Tax Free Shopping & VAT Information
4 in stock
The base layer for Charon is based on the grimy look the enigmatic Stygian Boatsman rocks in the videogame. As accents, I've sprinkled in purple, brown, golden and dark grey speckles, allowing them to scatter in the dye pans - like a colorful River Styx flowing over the yarn.

Undercover Otter celebrates the award-winning videogame Hades with its bright colors, amazing storylines and deep dives into mythology. For this month Aiden picked some of the coolest things from the game and used them as inspiration for a yarn collection that's hotter than the lava river Phlegeton.

Just like the Zagreus, the main character of the game, we're trying to escape the underworld. Knit fast, so you can get closer to freedom at the gates of the Styx. A surefire way to keep your yarn-spirational projects stylish and suave.
Dye Technique(s) Used:
Variegated
Speckles
Submersion
About This Yarn Base:
Share
View full details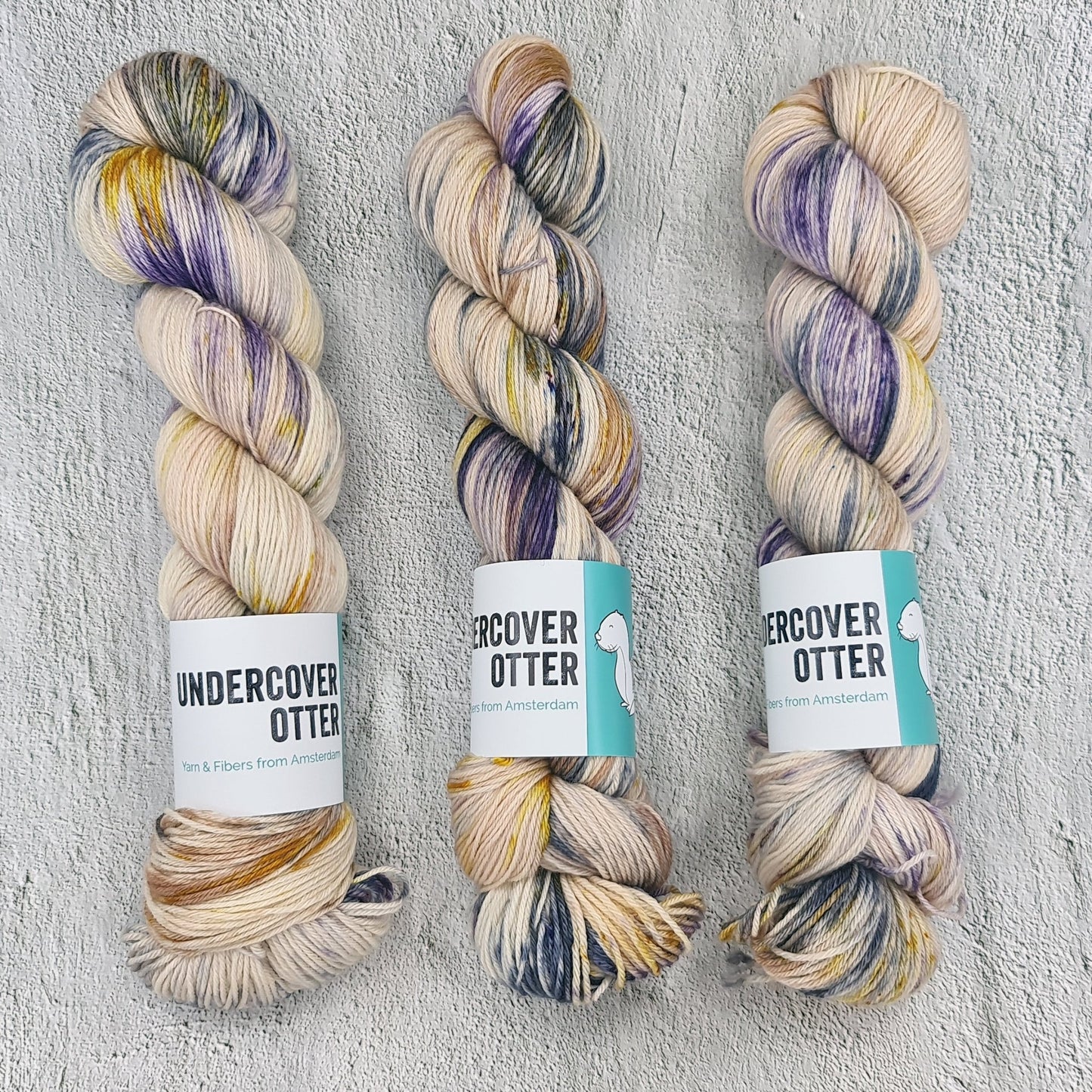 Tax Free Shopping & VAT Information
Regardless of where you place your order from, we calculate VAT according to your shipping address upon checkout.
IMPORTANT: If you are using a VPN, or your shipping country differs from the one you are in during the purchase, the website may not be showing the correct VAT amount*.
🌍Customers from outside the EEA (those in the 🇺🇸 United States, 🇨🇦 Canada, 🇯🇵 Japan, 🇦🇺 Australia, etc):
If you are shopping from outside of the European Economic Area (EEA) and we are shipping to you outside of the EEA, you will not pay any VAT (Value Added Tax) at checkout.
🇪🇺 EU customers:
We will charge you the VAT rate of your shipping address.
Example:
Customers from Germany will pay 19% VAT.
Customers from France will pay 20% VAT.
If you want to know your country's tax rate, please CLICK THIS LINK.
🇳🇱 Dutch customers:
We will charge you 21% VAT.
🇬🇧 UK customers:
Due to UK taxation laws post Brexit, we are unable to ship orders with a value of GBP 135 or less to the UK.
Customers with order values over GBP 135 (excl. VAT) do not pay VAT at Undercover Otter. Instead, you will pay VAT once the package arrives in the UK.
Price display on the website:
Customers outside the EEA see all prices on the website excluding taxes.
Customers in the Netherlands and the EEA see all prices on the website including their local taxes.

Customs and Import charges:
For some items, your customs bureau may require you to pay for importing your order. This is a fee that the government charges you for the right to import certain goods.
Undercover Otter has no control over the amount they will charge you when your order arrives in your country, and we cannot be held liable for these costs. If you refuse a shipment, and it gets returned to Undercover Otter, we can refund your order. But we will not refund the shipping costs.
*: As mentioned in our Privacy Policy, we use cookies to communicate with your browser and detect in which country you are located.
Collapsible content
Important Information

When purchasing hand dyed yarns, we recommend you purchase a sufficient amount of yarn for your project.

We sell handmade products that get produced in small batches. We always use the same recipes for repeatable colorways and work very precise measuring our materials. However, it's impossible to guarantee two skeins will ever look the same. With hand made products there is always some variation on the end product.

If you want a uniform result with the end product you are making, with knitting, crochet and weaving, alternate skeins once rows. If using fiber, you can mix and match some of the fibers as you go when spinning or felting.

When dyeing yarn we fully exhaust all pigments before going to the rinsing step. Despite the care we put into the rinsing process, mild bleeding is common in hand dyed yarn and if you have a skein with a bright or dark color, or it contains speckles, play it safe by rinsing the skein in cold water and some wool wash and let it dry before casting on.

If you want more information on how to care for hand dyed yarn, please follow this link.

This listing is for one (1) skein of yarn unless specifically mentioned otherwise. Photos of multiple skeins shows a comparison between yarn bases and/or skeins. Colorways may slightly vary depending on the screen due to your display settings.