Regular price
Sale price
€12.50 EUR
Unit price
per
Sale
Sold out
Tax Free Shopping & VAT Information
2 in stock
Scent: Leather, Whiskey and Vetiver.
Yes Xaddy! is one of Aiden's favorite scents, smelling of Leather, Whiskey and Vetiver. While the soap dried in our studio it made them feel right at home and at times it made them stare into the distance with a mischievous grin.  

Cleanse and protect your delicate woolen garments with our hand made Wool Wash Flakes with Lanolin! Perfect for all of your hand knit items, or other delicates, Undercover Otter Wool Wash keeps your beloved items safe and fresh. 
These flakes are scented with essential- and fragrance oils and enriched with lanolin. All of our Wool Wash Flakes are made in house by Undercover Otter, using all natural soap that has been produced without the use of parabens, SL(E)S. propylene glycol or animal testing. We use sustainable palm oil (RSPO certified) for the production of these flakes. 
Ingredients:
Sodium Palmate*, Aqua, Sodium Palm Kernelate*, Glycerin, Sorbitol, Coconut Acid, Sodium Chloride, Tetrasodium Glutamate Diacetate, Lanolin, Essential- and Fragrance Oils. 
*derived from 100% durable, RSPO certified palm oil
How to use:
Dissolve 1 tablespoon of flakes into boiling water.
Add mix to a tub of (cold) water and wash items as usual.
Rinse afterwards with clean water.
Dry items laying flat.
Our Wool Wash Flakes are produced to use as a detergent only!
This soap is not for cosmetic use.  
The amazing whips in the photos are handcrafted by Ramz from Wild Weirdo Creations. They are another maker you can find in the same building as Undercover Otter, and they were kind enough to loan us some of their hand crafted whips for the little pun we got going here. As you may have guessed: These whips are NOT included in the purchase of a bag of wool wash flakes.
Share
View full details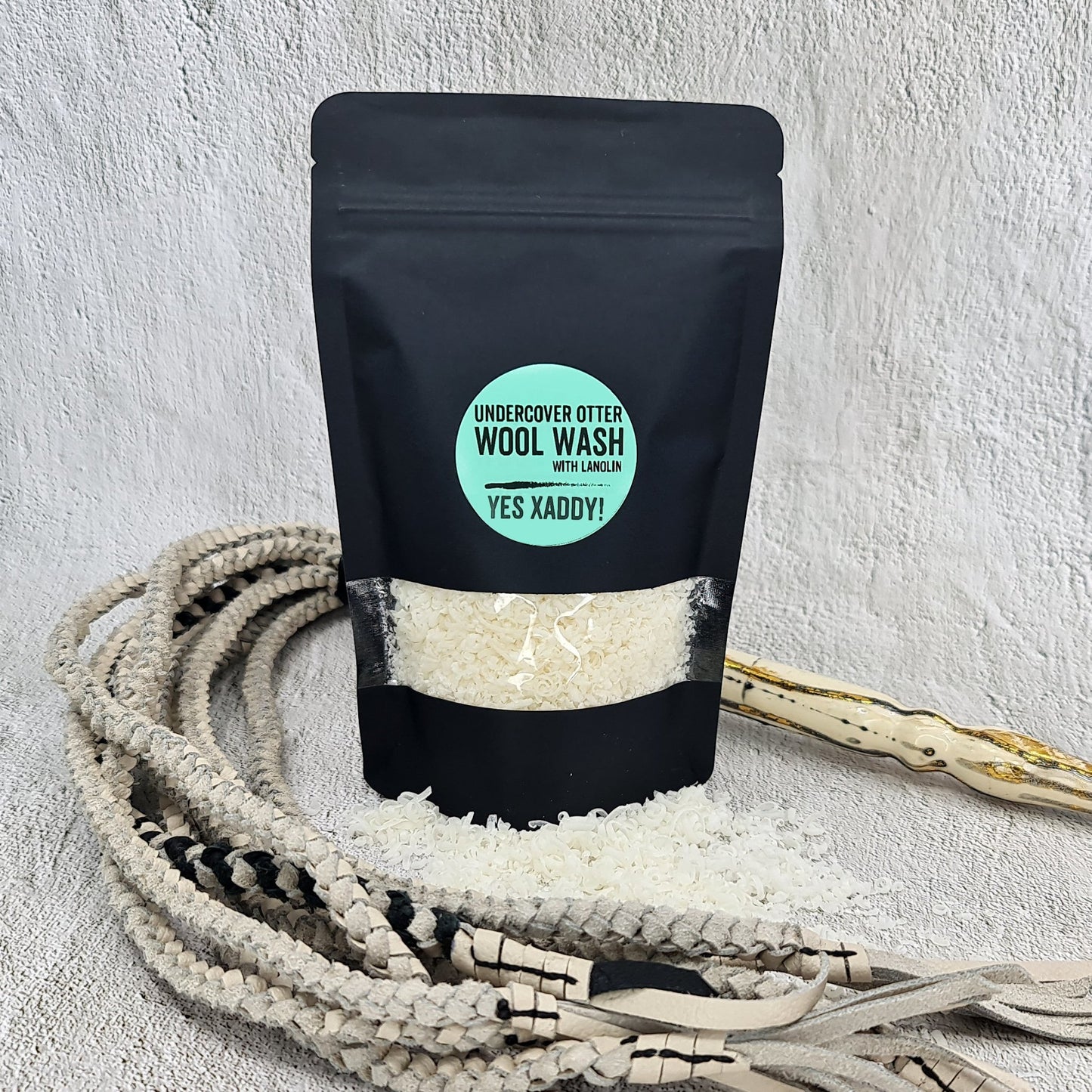 Tax Free Shopping & VAT Information
Regardless of where you place your order from, we calculate VAT according to your shipping address upon checkout.
IMPORTANT: If you are using a VPN, or your shipping country differs from the one you are in during the purchase, the website may not be showing the correct VAT amount*.
🌍Customers from outside the EEA (those in the 🇺🇸 United States, 🇨🇦 Canada, 🇯🇵 Japan, 🇦🇺 Australia, etc):
If you are shopping from outside of the European Economic Area (EEA) and we are shipping to you outside of the EEA, you will not pay any VAT (Value Added Tax) at checkout.
🇪🇺 EU customers:
We will charge you the VAT rate of your shipping address.
Example:
Customers from Germany will pay 19% VAT.
Customers from France will pay 20% VAT.
If you want to know your country's tax rate, please CLICK THIS LINK.
🇳🇱 Dutch customers:
We will charge you 21% VAT.
🇬🇧 UK customers:
Due to UK taxation laws post Brexit, we are unable to ship orders with a value of GBP 135 or less to the UK.
Customers with order values over GBP 135 (excl. VAT) do not pay VAT at Undercover Otter. Instead, you will pay VAT once the package arrives in the UK.
Price display on the website:
Customers outside the EEA see all prices on the website excluding taxes.
Customers in the Netherlands and the EEA see all prices on the website including their local taxes.

Customs and Import charges:
For some items, your customs bureau may require you to pay for importing your order. This is a fee that the government charges you for the right to import certain goods.
Undercover Otter has no control over the amount they will charge you when your order arrives in your country, and we cannot be held liable for these costs. If you refuse a shipment, and it gets returned to Undercover Otter, we can refund your order. But we will not refund the shipping costs.
*: As mentioned in our Privacy Policy, we use cookies to communicate with your browser and detect in which country you are located.